Short Story
Originally released in 2006, Project Torque grew to become a much loved Free 2 Play MMO Racing game. Shut down in 2014 the game's fans have been awaiting its comeback and this year we are working on bringing it back online!
Project Torque
$10,000.00

Funding Goal

$12,701.00

Funds Raised

0

Days to go

Goal and Date

Campaign End Method
Campaign Story
 Project Torque coming back online?
Yes, you heard correct. Project Torque is coming back.
For many years fans have been asking for the game to be revived and this year we worked with the developers of the game to make it happen with a publishing deal.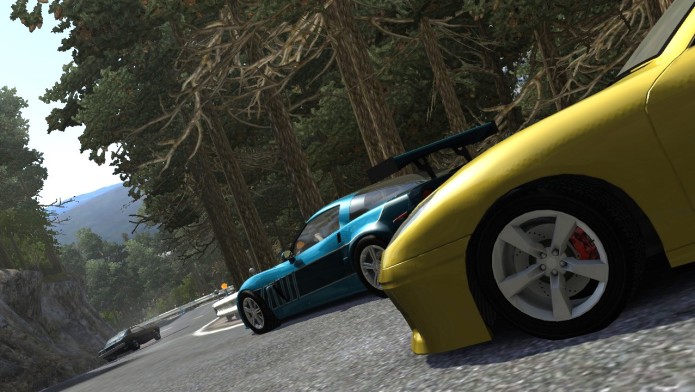 Our team is made up of fans of the original game which includes a couple of developers who will work together to improve the game and get it playable on modern systems.
We will be bringing back the Fiona build which was one of the most stable and played builds made. We hope to also import some of the changes made in the later builds into this one such as the graphics improvements and all the cars, car parts, paints, and race tracks.
The game will be made available first on Steam and we hope to soon after also publish on Discord too. No, we will not be an Epic Exclusive.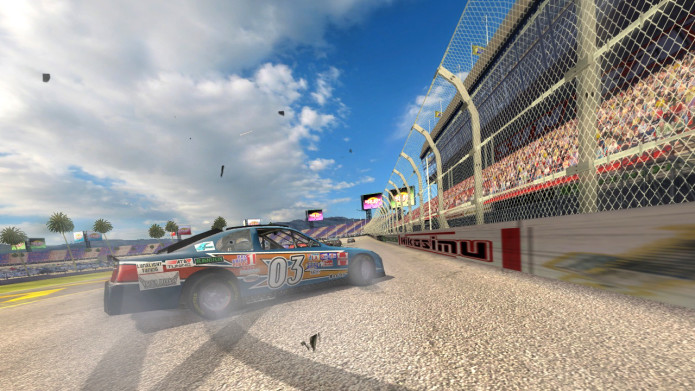 The deal with the original developers of the game includes access to the source code. This is a big as it allows us to not only fix issues with the game and to integrate with Steam and Discord, but to also improve the game with new features and game content such as new cars, car parts, car paints, race tracks and possibly game modes.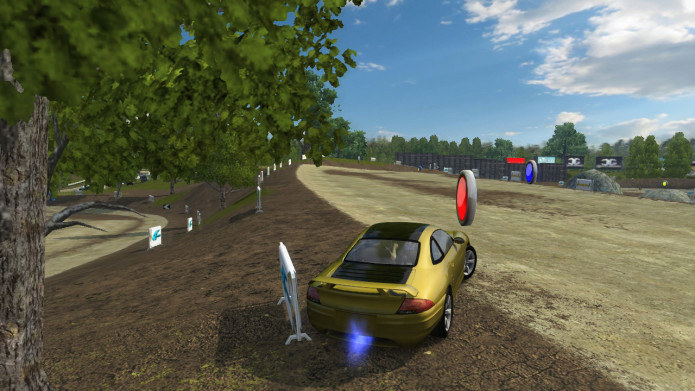 So what is this crowdfund for?
There is a bit of work to do by the original developers to get the game ready for going live. This mainly consists of getting a working build put together and legal contracts between us and them.
The total for this work is $10,000.
This is a very good price to pay as there is quite a bit of work to do and we are getting source code access as well as the publishing rights to the game.
Funds raised on top of this go to cover stretch goals which include server hosting fees and a fund to go towards the developers who will be improving the game over the next few months to years.
This is an all or nothing fundraiser so if we do not reach this goal, no game 🙁
In return for your contributions towards the crowdfunding campaign, not only will you get the game but you will get the following;
– Early Access to Beta testing
– Forklift
– Special Backer only car colours and decals
– Credited as a backer
– XP and RP Booster pack (quantity listed in rewards)
– GP "Gamer Points" In-Game Currency (quantity listed in rewards)
– Special user role in Discord
– Coloured in-game name (if possible)
– Exclusive Car pack for donations $20 and over (which cars yet to be decided)
– Donations $50 and over will also get a surprise. What is it? A SUPRISE!
Do note that we will not have any licensed cars from day 1. The licensed cars from the game will be replaced by replicas with the same stats and look like the real ones though.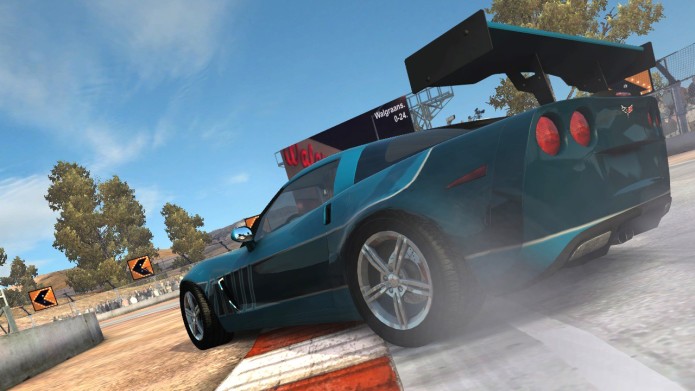 The Impact
Every contribution no matter how small will go directly towards helping to get this awesome game back online for everyone to play. We understand not everyone can afford to donate, and if this is the case we need you to spread the word.
Find people who use the play the game and show them this project. Also, find people who love racing games. Many who have not played Project Torque want to give it ago too.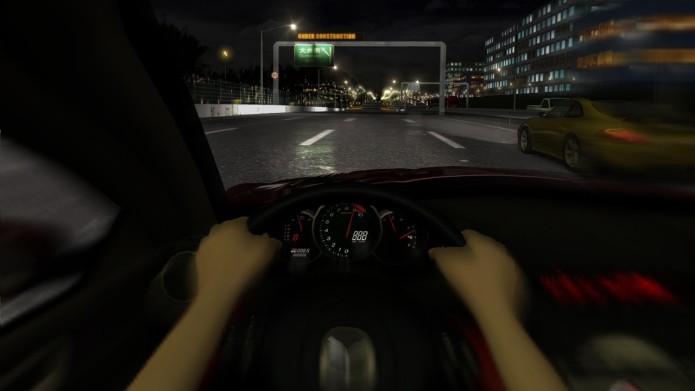 In-Game Currency
We pledge that at least 80% of the cars in the game will be earnable by playing the game and earning RP. We also pledge that paid content using the in-game currency Gamer Points (GP for short) will not be overpriced like before.
No more paying £20-£30 for a top-end car. We will at the absolute max charge £10 for a car. With the majority being £3 to £5.
We will also not implement surprise mechanics gambling features such loot boxes into the game.
We understand that in some regions, income is a lot lower and after currency exchange even £5 is a lot of money. We will work on making the in-game currency more accessible to these areas.
Risks & Challenges
We want to be as transparent as possible to you all throughout this process.
This crowdfund is the raise money for publishing rights to a game that has already been made. This game will be released for free and there will be in-game purchases with real money. Though 80% or more of the content will be earnable from playing the game.
Money raised from the sale of IGC will be put back into the game development and the hosting fees.
If the deal between us and the original developers fails after the crowdfund, all money will be returned to backers excluding any fees.
Rewards
$

5.00
600 GP - 5x XP & RP Booster Pack
September, 2019
Estimated Delivery
77 backers
$

10.00
1,300 GP - 8x XP & RP Booster Pack
September, 2019
Estimated Delivery
49 backers
$

20.00
2,800 GP - 12x XP & RP Booster Pack
September, 2019
Estimated Delivery
96 backers
$

30.00
4,500 GP - 15x XP & RP Booster Pack
September, 2019
Estimated Delivery
21 backers
$

40.00
6,400 GP - 20x XP & RP Booster Pack
September, 2019
Estimated Delivery
13 backers
$

50.00
8,500 GP - 25x XP & RP Booster Pack
September, 2019
Estimated Delivery
49 backers
$

75.00
13,500 GP - 37x XP & RP Booster Pack
September, 2019
Estimated Delivery
4 backers
$

100.00
19,000 GP - 50x XP & RP Booster Pack
September, 2019
Estimated Delivery
56 backers
Name
Donate Amount
Date
Eric

$

50.00
August 13, 2019
SBCHEVY

$

20.00
August 12, 2019
Bartosz

$

5.00
August 12, 2019
Barrett

$

100.00
August 12, 2019
Adrienn

$

20.00
August 12, 2019
Zachery

$

50.00
August 12, 2019
Yunepeng

$

5.00
August 12, 2019
Pootis

$

20.00
August 12, 2019
Lamiot

$

5.00
August 11, 2019
Matthias

$

20.00
August 11, 2019
José

$

20.00
August 11, 2019
Krisztian

$

30.00
August 11, 2019
Claudiu

$

10.00
August 11, 2019
HanBaal

$

20.00
August 11, 2019
Rui

$

5.00
August 11, 2019
Julian

$

5.00
August 11, 2019
Anonymous

$

5.00
August 11, 2019
Florian

$

20.00
August 11, 2019
Corey

$

20.00
August 11, 2019
Dimcică

$

10.00
August 11, 2019
Jochen

$

20.00
August 11, 2019
Aleksi

$

5.00
August 11, 2019
Janis

$

30.00
August 11, 2019
Dominik

$

51.00
August 11, 2019
Mathias

$

20.00
August 11, 2019
Indra

$

5.00
August 11, 2019
Eric

$

50.00
August 11, 2019
Vasiliy

$

5.00
August 11, 2019
Anonymous

$

5.00
August 11, 2019
Omar

$

40.00
August 10, 2019
Cruz

$

40.00
August 10, 2019
Antonio

$

50.00
August 10, 2019
Andre

$

20.00
August 10, 2019
Paul

$

50.00
August 10, 2019
Stefan

$

50.00
August 10, 2019
Vinny

$

50.00
August 10, 2019
Lyubomir

$

5.00
August 10, 2019
Vlad

$

10.00
August 10, 2019
Sleek

$

50.00
August 10, 2019
Luis

$

50.00
August 10, 2019
Casey

$

10.00
August 10, 2019
Fabien

$

20.00
August 09, 2019
William

$

50.00
August 09, 2019
Décio

$

5.00
August 09, 2019
Evert

$

5.00
August 09, 2019
Filipe

$

20.00
August 09, 2019
Richmond

$

5.00
August 09, 2019
Victor

$

5.00
August 09, 2019
Randall

$

10.00
August 09, 2019
Chris

$

50.00
August 09, 2019
Zane

$

20.00
August 09, 2019
Mathijs

$

5.00
August 09, 2019
Eelco

$

5.00
August 09, 2019
Wouter

$

5.00
August 09, 2019
Uwe

$

10.00
August 09, 2019
Marcel

$

100.00
August 09, 2019
Isaac

$

20.00
August 09, 2019
Brian

$

40.00
August 09, 2019
James

$

30.00
August 09, 2019
Anonymous

$

20.00
August 09, 2019
Dmytro

$

10.00
August 09, 2019
Anonymous

$

20.00
August 09, 2019
Anonymous

$

5.00
August 09, 2019
Stefan

$

10.00
August 09, 2019
Kristaps

$

50.00
August 09, 2019
Justyn

$

5.00
August 09, 2019
gros nooere

$

50.00
August 09, 2019
Anonymous

$

20.00
August 09, 2019
Brandon

$

10.00
August 09, 2019
samuel

$

5.00
August 08, 2019
Tim

$

20.00
August 08, 2019
Christopher

$

5.00
August 08, 2019
Pedro

$

10.00
August 08, 2019
Eddy

$

40.00
August 08, 2019
Wolfgang

$

30.00
August 08, 2019
Jacob

$

50.00
August 08, 2019
Dustin

$

100.00
August 08, 2019
Radoslav

$

5.00
August 08, 2019
Akkan

$

20.00
August 08, 2019
Paul

$

50.00
August 08, 2019
Debra

$

100.00
August 08, 2019
PUMA

$

75.00
August 08, 2019
TA318PYC

$

5.00
August 08, 2019
Валерий

$

10.00
August 08, 2019
Jan

$

5.00
August 08, 2019
Maurizio

$

50.00
August 08, 2019
martin

$

20.00
August 08, 2019
Vojtech

$

20.00
August 08, 2019
Romuald

$

20.00
August 08, 2019
Anonymous

$

5.00
August 08, 2019
Rainer

$

20.00
August 08, 2019
sam

$

100.00
August 08, 2019
Alexei

$

5.00
August 08, 2019
Andrei

$

7.00
August 08, 2019
David

$

5.00
August 08, 2019
Devon

$

20.00
August 08, 2019
Maxime

$

50.00
August 08, 2019
Michael

$

20.00
August 08, 2019
Anonymous

$

5.00
August 08, 2019
Caio

$

10.00
August 08, 2019
Anonymous

$

20.00
August 08, 2019
Brian

$

100.00
August 08, 2019
Stefan

$

5.00
August 08, 2019
Martin

$

20.00
August 08, 2019
Lyubomir

$

5.00
August 08, 2019
Lukas

$

5.00
August 08, 2019
Jenő

$

20.00
August 08, 2019
Viktor

$

20.00
August 08, 2019
Biray

$

20.00
August 08, 2019
Tim

$

50.00
August 08, 2019
Luis

$

20.00
August 08, 2019
Joshua

$

5.00
August 08, 2019
Lukas

$

50.00
August 08, 2019
Andrei

$

8.00
August 08, 2019
Diego

$

20.00
August 08, 2019
Jürgen

$

100.00
August 08, 2019
Roman

$

5.00
August 08, 2019
Eric

$

5.00
August 08, 2019
Michael

$

25.00
August 08, 2019
Robert

$

5.00
August 08, 2019
Daniel

$

50.00
August 08, 2019
Connor

$

30.00
August 08, 2019
Richard

$

50.00
August 08, 2019
Gábor

$

30.00
August 08, 2019
jeffrey

$

25.00
August 08, 2019
John

$

5.00
August 08, 2019
Anonymous

$

5.00
August 08, 2019
Miyami

$

50.00
August 08, 2019
Viktor

$

30.00
August 08, 2019
Shane

$

20.00
August 08, 2019
Paulo

$

10.00
August 08, 2019
Csaba

$

20.00
August 08, 2019
Luis

$

100.00
August 08, 2019
Joseph

$

15.00
August 08, 2019
Vladimir

$

5.00
August 08, 2019
Miki

$

100.00
August 08, 2019
Jeremy

$

50.00
August 08, 2019
Manuel

$

100.00
August 08, 2019
Brad

$

100.00
August 08, 2019
Suttawi

$

50.00
August 08, 2019
Anonymous

$

9.00
August 08, 2019
Nicholas

$

50.00
August 08, 2019
Vegar

$

50.00
August 08, 2019
Riley

$

111.00
August 08, 2019
QupaRo

$

20.00
August 08, 2019
Levent

$

5.00
August 08, 2019
Darren

$

10.00
August 08, 2019
Joshua

$

10.00
August 08, 2019
Gaël

$

5.00
August 08, 2019
Nánási

$

10.00
August 08, 2019
Viktor

$

20.00
August 08, 2019
Jean

$

10.00
August 07, 2019
Alan

$

100.00
August 07, 2019
Julian

$

10.00
August 07, 2019
andy

$

100.00
August 07, 2019
Bryan

$

50.00
August 07, 2019
Krzysztof

$

5.00
August 07, 2019
Dylan

$

10.00
August 07, 2019
Peter

$

20.00
August 07, 2019
Aleksandrs

$

5.00
August 07, 2019
Anonymous

$

100.00
August 07, 2019
Anonymous

$

10.00
August 07, 2019
Daniel

$

5.00
August 07, 2019
Pascal

$

5.00
August 07, 2019
Kevin

$

20.00
August 07, 2019
Anonymous

$

50.00
August 07, 2019
Anonymous

$

20.00
August 07, 2019
Iskren

$

20.00
August 07, 2019
Arvīds

$

20.00
August 07, 2019
Jānis

$

20.00
August 07, 2019
Pier-Benoit

$

20.00
August 07, 2019
Jandry

$

10.00
August 07, 2019
Ivan

$

20.00
August 07, 2019
Daniel

$

20.00
August 07, 2019
Justin

$

20.00
August 07, 2019
Mario

$

20.00
August 07, 2019
Joao

$

10.00
August 07, 2019
ELISEU

$

5.00
August 07, 2019
Janos

$

50.00
August 07, 2019
Marvin

$

5.00
August 07, 2019
Markus

$

20.00
August 07, 2019
Frode

$

40.00
August 07, 2019
Jens

$

20.00
August 07, 2019
Sanjay

$

20.00
August 07, 2019
Joshua

$

20.00
August 07, 2019
Chris

$

20.00
August 07, 2019
David

$

10.00
August 07, 2019
Nánási

$

5.00
August 06, 2019
Pedro

$

50.00
August 06, 2019
Bugy

$

20.00
August 06, 2019
Francisco

$

50.01
August 06, 2019
Dillon

$

20.00
August 06, 2019
Jan-Philipp

$

20.00
August 06, 2019
Andreas

$

20.00
August 06, 2019
Anonymous

$

50.00
August 06, 2019
Pascal

$

10.00
August 06, 2019
Manuel

$

100.00
August 06, 2019
Jesse

$

100.00
August 06, 2019
Łukasz

$

20.00
August 06, 2019
Jasmin

$

5.00
August 06, 2019
Anonymous

$

5.00
August 06, 2019
Nino

$

25.00
August 06, 2019
Jacob

$

100.00
August 06, 2019
Thomas

$

100.00
August 06, 2019
Lukas

$

50.01
August 06, 2019
Steve

$

5.00
August 06, 2019
Manuel

$

100.00
August 06, 2019
Takumi

$

10.00
August 06, 2019
Marlen

$

100.00
August 06, 2019
Albagly

$

20.00
August 06, 2019
Connor

$

20.00
August 06, 2019
Michael

$

50.00
August 06, 2019
Kai

$

10.00
August 06, 2019
Richard

$

100.00
August 06, 2019
Iskren

$

20.00
August 06, 2019
Dillan

$

5.00
August 06, 2019
Wade

$

10.00
August 06, 2019
Johann

$

100.00
August 05, 2019
Anonymous

$

40.00
August 05, 2019
Harri

$

5.00
August 05, 2019
Anonymous

$

20.00
August 05, 2019
Rene

$

10.00
August 05, 2019
Lyubomir

$

10.00
August 05, 2019
Danny

$

100.00
August 05, 2019
Mantas

$

10.00
August 04, 2019
Stefano

$

5.00
August 04, 2019
Andreas

$

20.00
August 04, 2019
Carl

$

20.00
August 04, 2019
Florian

$

10.00
August 04, 2019
Christian

$

10.00
August 04, 2019
Corey

$

30.00
August 04, 2019
Shea

$

88.31
August 04, 2019
Jandry

$

78.00
August 04, 2019
Dennis

$

5.00
August 04, 2019
Andrew

$

10.00
August 04, 2019
ivo

$

18.00
August 04, 2019
Anonymous

$

20.00
August 04, 2019
Corey

$

30.00
August 04, 2019
Steve

$

5.00
August 04, 2019
Renato

$

20.00
August 03, 2019
Paweł

$

20.69
August 03, 2019
Jeremy

$

20.00
August 03, 2019
richard

$

20.00
August 03, 2019
Jonathon

$

50.00
August 03, 2019
Ruben

$

10.00
August 03, 2019
Jesper

$

40.00
August 03, 2019
Sébastien

$

30.00
August 02, 2019
Martin

$

5.00
August 02, 2019
Gary

$

5.00
August 02, 2019
Filipe

$

20.00
August 02, 2019
Brian

$

30.00
August 02, 2019
Sebastien

$

5.00
August 02, 2019
Ricardo

$

40.00
August 02, 2019
Thorsten

$

100.00
August 02, 2019
Joerg

$

30.00
August 02, 2019
Stella

$

30.00
August 02, 2019
Roman

$

10.00
August 02, 2019
Jandry

$

5.00
August 02, 2019
Lukas

$

30.00
August 02, 2019
Vitalijus

$

30.00
August 02, 2019
Daryl

$

5.00
August 02, 2019
Shiron

$

50.00
August 02, 2019
t

$

100.00
August 02, 2019
Alexander

$

30.00
August 02, 2019
Vencislav

$

10.00
August 02, 2019
Thomas

$

10.00
August 02, 2019
maxime

$

20.00
August 02, 2019
Miyami

$

100.00
August 02, 2019
deane

$

10.00
August 02, 2019
Corneliu

$

5.00
August 02, 2019
Adrien

$

250.00
August 02, 2019
Adam

$

5.00
August 02, 2019
Anonymous

$

30.00
August 02, 2019
ivo

$

5.00
August 02, 2019
Tobias

$

50.00
August 02, 2019
Masato

$

100.00
August 02, 2019
IWASAKI

$

5.00
August 02, 2019
Corey

$

20.00
August 02, 2019
Eddy

$

40.00
August 01, 2019
Chris

$

20.00
August 01, 2019
Andrea

$

10.00
August 01, 2019
Adam

$

20.00
August 01, 2019
Stefano

$

5.00
August 01, 2019
KOKI

$

30.00
August 01, 2019
Dawid

$

120.00
August 01, 2019
Shea

$

9.93
August 01, 2019
Chris-Alexander

$

100.00
August 01, 2019
Jandry

$

7.00
August 01, 2019
Philipp

$

100.00
August 01, 2019
Ron

$

50.00
August 01, 2019
Pedro

$

50.00
August 01, 2019
Emil

$

20.00
August 01, 2019
Dave

$

10.00
August 01, 2019
Cristian

$

7.00
August 01, 2019
Florian

$

20.00
August 01, 2019
Jandry

$

10.00
August 01, 2019
Kurtis

$

100.00
August 01, 2019
Jason

$

20.00
August 01, 2019
Jesse

$

20.00
August 01, 2019
Tetsushi

$

30.00
August 01, 2019
Sebastian

$

100.00
August 01, 2019
Elia

$

20.00
August 01, 2019
Carlos

$

100.00
August 01, 2019
Nicolas

$

100.00
August 01, 2019
Henning

$

40.00
August 01, 2019
Tino

$

22.07
August 01, 2019
Nico

$

10.00
August 01, 2019
Andreas

$

50.00
August 01, 2019
Dirk

$

40.00
August 01, 2019
Julien

$

50.00
August 01, 2019
Jonathon

$

100.00
August 01, 2019
Scott

$

100.00
August 01, 2019
Jürgen

$

100.00
July 31, 2019
Christian

$

40.00
July 31, 2019
Andreas

$

100.00
July 31, 2019
Alexis

$

50.00
July 31, 2019
Jason

$

100.00
July 31, 2019
Juer

$

40.00
July 31, 2019
Aleksandr

$

50.00
July 31, 2019
Erik

$

50.00
July 31, 2019
Julian

$

100.00
July 31, 2019
Matias eduardo

$

5.00
July 31, 2019
Joseph

$

5.00
July 31, 2019
Sean

$

20.00
July 31, 2019
Anonymous

$

30.00
July 31, 2019
Sasa

$

20.00
July 31, 2019
Emiliano

$

20.00
July 31, 2019
Yoshihiro

$

20.00
July 31, 2019
Daniel

$

20.00
July 31, 2019
Renato

$

10.00
July 31, 2019
Juergen

$

100.00
July 31, 2019
conrad

$

100.00
July 30, 2019
Dean

$

50.00
July 30, 2019
Anonymous

$

100.00
July 30, 2019
Sean

$

20.00
July 30, 2019
Dawid

$

20.00
July 30, 2019
Guillaume

$

100.00
July 30, 2019
Taku

$

100.00
July 30, 2019
Kathryn

$

20.00
July 30, 2019
Tim

$

100.00
July 30, 2019
Vinny

$

20.00
July 30, 2019
Anthony

$

100.00
July 30, 2019
Dean

$

100.00
July 30, 2019
Chris

$

5.00
July 30, 2019
Aleksandr

$

10.00
July 30, 2019
Martynas

$

20.00
July 30, 2019
Jeff

$

75.00
July 30, 2019
Anonymous

$

5.00
July 30, 2019
Dominik

$

30.00
July 30, 2019
Louis

$

100.00
July 30, 2019
DALTON

$

10.00
July 30, 2019
GT4tube

$

100.00
July 30, 2019
Troy

$

50.00
July 30, 2019
Daniel

$

10.00
July 30, 2019
Mario

$

10.00
July 30, 2019
Jeremy

$

100.00
July 30, 2019
Agot

$

5.00
July 30, 2019
ST

$

20.00
July 30, 2019
Martin

$

20.00
July 30, 2019
Gábor

$

20.00
July 30, 2019
Jan

$

50.00
July 30, 2019
Ronald

$

50.00
July 30, 2019
Shea

$

100.00
July 30, 2019
Jimmy

$

100.00
July 30, 2019
Jack

$

250.00
July 30, 2019

$

8.98
July 30, 2019